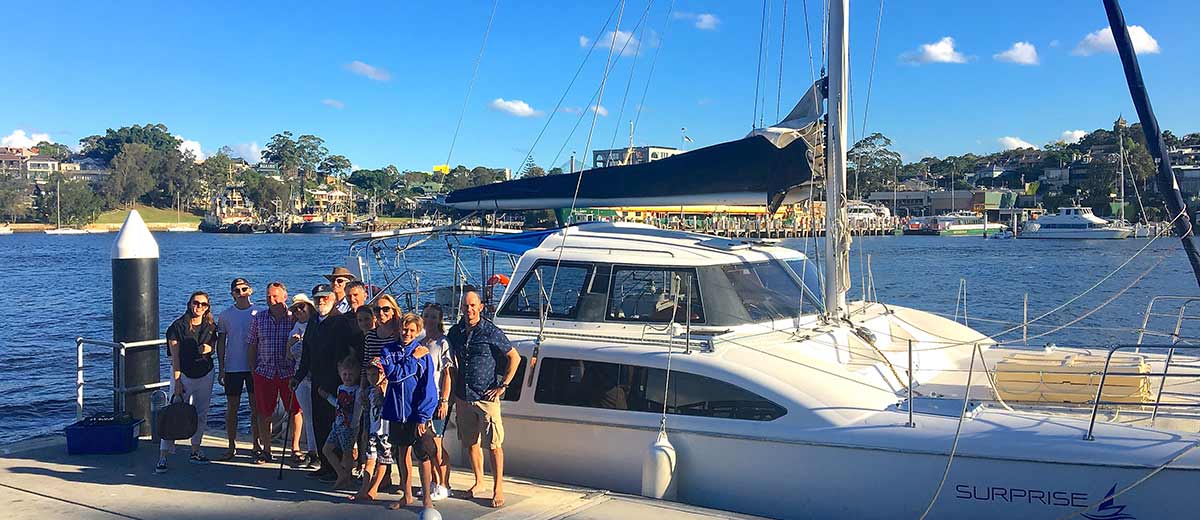 Common questions – Liquid Edge Yacht Charter
Who are Liquid Edge Yacht Charters?
We are a small company, we own our yachts outright and do not have to compromise on anything with an individual yacht owner. This way we keep our prices competitive for a high quality service. We are an easy company to deal with, if you have special needs, questions, wish to vary our standard terms you will find us both helpful and responsive. We are based in the inner city area of Balmain, close to all the major pick up locations around the harbour.
What is the maximum capacity of your yachts, are they safe?
Our yachts are in AMSA survey, are inspected annually and maintained to the highest commercial standards.
All have required safety equipment and emergency gear. 
The Bavaria 37: 8 passengers plus crew. Bareboat 8 during the day, 6 overnight.
The Seawind catamaran: 14 passengers plus crew. Not available as a Bareboat.
Is it possible to extend the charter if everyone is enjoying themselves?
Yes, most times. Many groups find it hard to leave that perfect spot and head home. If this should be the general consensus of your group simply ask the skipper for an extension, in most cases we are able to accommodate this. If the boat or the crew is booked for another charter we will not be able to extend. You will need a credit card or cash to extend the charter.
How do I secure my booking?
A 50% deposit is required to secure the booking, with the balance payable 14 days before the charter date. Payment is EFT or on-line with credit card through a secure payment gateway. After your deposit is processed we will email relevant information, i.e. pick up time, location.  If your booking is well in advance we are happy to vary the booking terms.
Weather issues
Unfavourable weather conditions are determined by our staff, based on the Bureau of Meteorology forecasts and Marine Wind Warnings.
If the charter cannot proceed, we will re-schedule it to another date. If you cannot reschedule your booking we will deduct a small fee to cover the wages of the staff member who has lost a shift. Please ask to see our terms and conditions. 
It is better not to take too much notice of the TV weather maps as they can be misleading, our staff are trained to monitor the weather and will be in touch if there are any concerns. We have a paid weather service updated every 3 hours and accurate modeling for Sydney Harbour up to 3 days in advance.
Can I inspect the yacht prior to booking?
Yes – the yachts are located in Balmain on a private marina – inspection is welcome. We are happy to arrange for after hours inspections as well, please be aware yachts are often out on charters.
What is appropriate clothing and footwear for a yacht?
We ask all guest to wear non marking shoes, soft soles only. Leather soles, high heels, business shoes mark and damage the deck and flooring. Casual clothing of any kind is good, comfort and clothing easy to move in is essential. A light spray jacket will keep you both dry and warmer if the wind has a chill.
Is the yacht safe for children?
The yachts have safety lines and life jackets. The cockpit is large and comfortable and the under deck area is large as well. Children need to be under adult supervision when on the upper decks and when docking. We have children's lifejackets, please advise us if you want your child to wear one.
What toilet facilities are onboard?
Yachts are equipped with an electric marine toilet connected to a holding tank. This ensures our harbour is not polluted. 
Do the yachts have a kitchen?
Yes, our yachts have functional kitchens with fridge, freezer, sink, work bench, gas cooktop and oven. Cooking for large groups is not advised, and most experienced boaters will bring fresh cold meals for a day out.  For larger groups we suggest guests bring disposable plates and cutlery. There are large fresh water tanks on board for general use. We supply bottled drinking water.
Do you have provision for music?
Yachts are fitted with sound systems compatible with most music players. We also have water resistant bluetooth speakers compatible with smartphones.
Contact Us