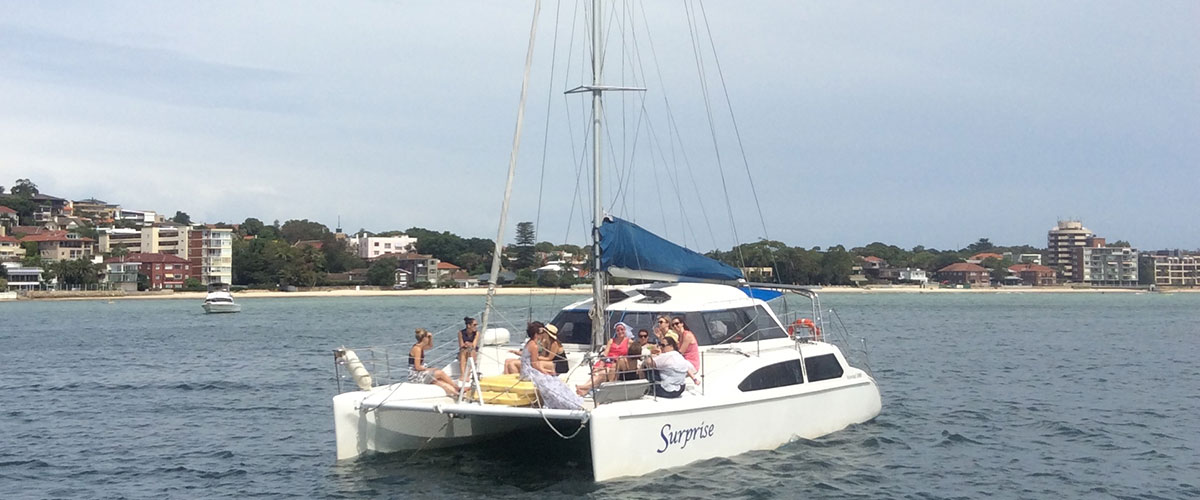 Skippered Yacht Charter ON Sydney Harbour
Charter a catamaran or monohull with Liquid Edge Skippered Yacht Charters.  We pick up at a variety of locations around Sydney Harbour including Darling Harbour. We can suggest an itinerary for you or if you have any ideas we are happy to discuss them.
You may choose to stop for lunch or a swim – depending on the weather and your personal preference.
Ideal for corporate events, Christmas parties, birthday cruises, hens parties, or sailing with family. An ideal gift for someone special.
BYO food and drinks.  We can recommend a caterer if you require one.
Take the helm and feel the power as the yacht leans into a stiff breeze.
Feel the wind in your hair
Take in the sights, the ferries, the racing yachts (e.g Sydney to Hobart, Australia Day Ferry Race) and more from the best vantage point in Sydney
If you wish to sail, our skippers can provide the opportunity to work the ropes, sit on the side, steer the yacht, or simply enjoy the ride – your choice.
We can head to Manly or go under Sydney Harbour Bridge to take in the historic sights of Balmain, Cockatoo Island and Gladesville.  
It is your charter – we are happy to take instructions or make suggestions, our skippers have a wealth of knowledge about sailing on Sydney Harbour.
Feel free to contact us regarding availability for boat hire/charter.
Contact Us
Find other types of charters here or use the top menu
SKIPPERED MONOHULL HIRE – BAVARIA 37
Edit
 
 
3 hours
4 hours
Extra hour
Public Holidays***
Up to 8 pax
 
By Negotiation
$1250
$250
Add 25%
After Sunset – additional Crew
$50 ph*
 
 
 
 

Wharf Fees

Amenities Fee**

$100 (free from Balmain)

$50 per charter

 
 
 
 
SkiPPERED Catamaran Hire – SEAWIND 1000
Edit
 
 
3 Hours
4 hours
Extra hour
Public Holidays***
Up to 16 pax
 
By Negotiation
$1400
$350 ph
Add 25%
After sunset – additional crew
$50 ph*
 
 
 
 

Wharf Fees – $100 per charter

Amenities Fee**

$100 (free from Balmain)

$150 per charter

 
 
 
 
 
 
 
 
 
 
*Additional crew required for charters ending after sunset.
**Amenities fee includes use of BBQ (Seawind) and Tableware, large esky, paddleboard or lilypad, free bottled water, sunscreen available, disposal of 1 large bag of rubbish, and disposal of recycables. Note:  Bavaria no BBQ.
Note:  Minimum 5 hours on Australia Day. 
***New Years Eve rates see here
All Liquid Edge Yachts have bottled water, sunscreen and other handy items should you forget anything.