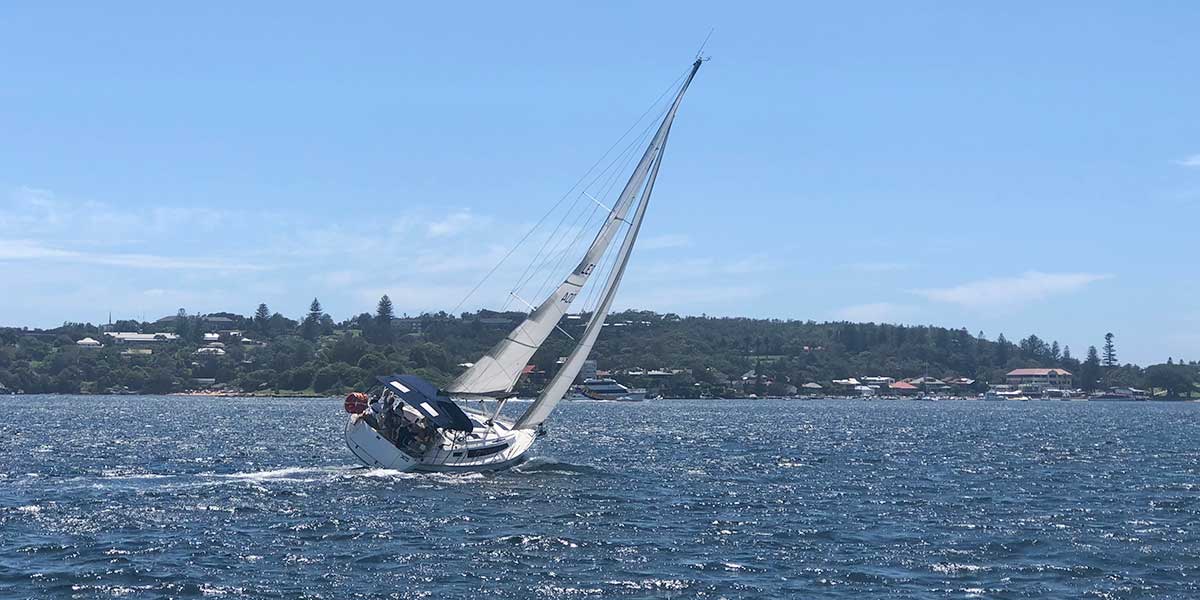 IYT International Crew Certificate – Day Skipper
Our  IYT International Crew program involves 4 exciting days of sailing lessons on Sydney Harbour learning the basics of sail handling and helming. The course is conducted over 2 consecutive weekends. No prior sailing experience is required. Each day consists of 6 hour sessions with a half hour break at anchor in one of the many secluded bays around Sydney.
Feel the yacht lean into the wind as it accelerates and responds to the prevailing conditions. You will learn how to safely adjust the sails and enjoy the feeling of natures forces powering the yacht. You will adjust the sails according to wind angle to get the most efficient combination of speed and power.
You will learn on our modern 37 ft Bavaria Cruiser which we had set up for training (see details here), on completion you will confidently step onto another yacht and know what all the parts are for! If you wish to stay on board for the duration you are welcome to – we stay in a sheltered marina where you can access the local shops, cafes and pubs.  A small fee applies.
This is a fun 4 days of sailing – no experience required for this course. You must complete the online theory session (in your own time) prior to commencing.
The curriculum includes
Personal Safety
Rope work
Adjusting the sails
Wind and boat direction
Steering the yacht
Rules of the Road, who has right of way and when, making good decisions
Safe anchoring techniques
Reefing sails – why and when
Safe heavy weather sailing
Night Sail
Using a pole and preventer for safe downwind sailing
Teamwork
Using and managing a yachts systems, water, power, waste (black water, grey water)
Use of an Auto Helm
Use of instruments
Understanding advanced concepts such as apparent wind and wind angle
Taking account of tides and currents
Included in the course is the globally recognised IYT International Crew Certificate.
A free online class is available for the theory component – click here to register
Check Dates and Prices
Use pull down menu for dates
See also Competent Crew page for 2 day introduction class
Contact Us
Student Ratios – why so important?
At Liquid Edge, we love teaching and want the best outcome for our students. All classes are conducted with a max of 4:1. This gives students more time learning each task. Our instructors all agree the 4:1 ratio is far superior to 5:1 – it simply makes sense!